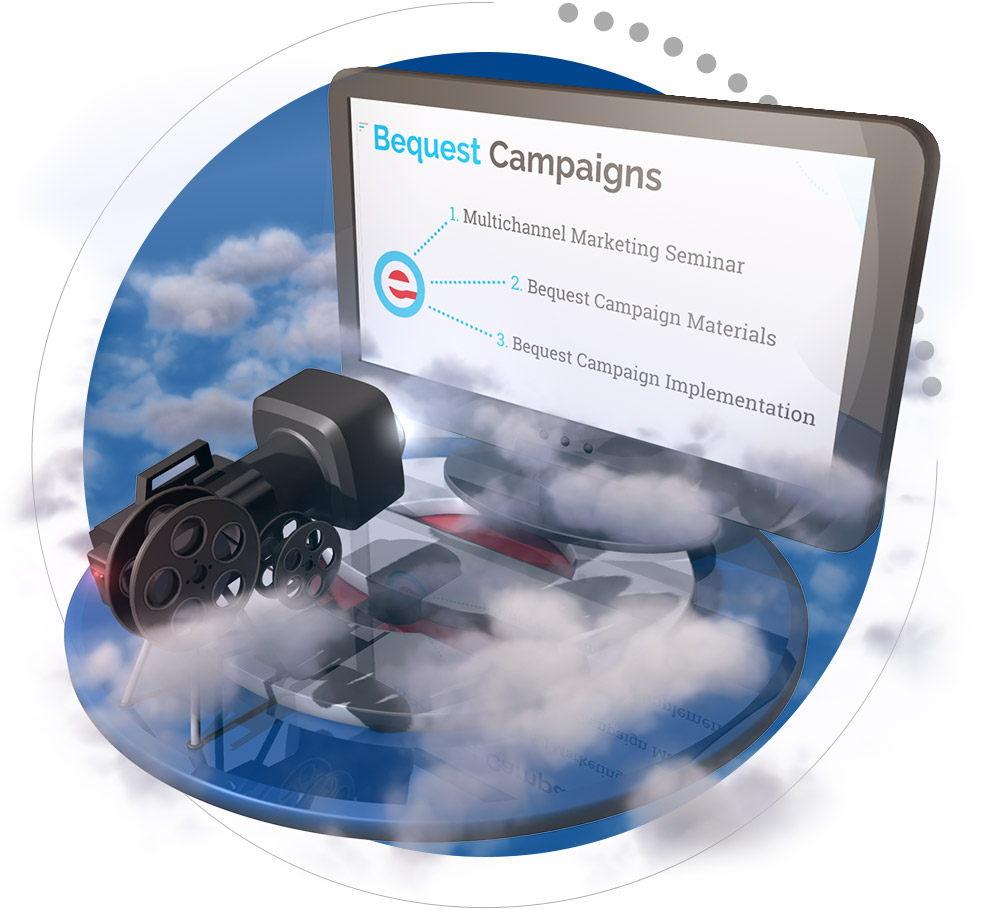 Marketing Education (CresCoaching)
Crescendo gives you more than just the tools to reach your goals. CresCoaching provides resources to build and launch an effective planned gifts marketing program to close more gifts and grow your legacy society. You will walk away with a time and cost efficient marketing plan that is tailored specifically to your organization.
CresCoaching starts with a webinar in week one to give you a framework to implement a marketing plan with bequest campaign strategies, IRA Rollover marketing and blended gifts. Weeks two and three include personal calls with a CresCoach to build your custom marketing plan. Week four is a valuable networking opportunity that enables you to view plans from other organizations. The time commitment for weeks one through four is about an hour per week. Week five is our Market Major and DAF Gifts webinar - a two-hour hands-on session that shows you how to propose and close major and DAF gifts.
"Just wanted to thank you for the time spent on the marketing plan overview yesterday. It was good to hear others share their plans as well as having Charles comment on each of our plans. This has some accountability 'built in' for us. Too often service providers are just satisfied with supplying a product/service. Crescendo 'walks along side us' to better enable our success in helping our donors be all that they wish to be in supporting our cause." ‑ Michael Fischer, SR. Gift Planning Advocate, The Lutheran Church ‑ Missouri Synod
"Thank you for your thoughtful attention in considering our marketing goals and transforming the vision into an actionable plan that truly reflects our needs and how we work. Having this level of support has been wonderfully energizing and provided a much needed boost to my work. Many thanks." ‑ Janell Johnson, Associate Development Director, Village Theatre
"I have appreciated the personalized coaching Crescendo offers its clients - what an outstanding partnership. The CresCoaches are so helpful in the personalized assistance to provide information on effectively utilizing the tools available through the CresManager system. The depth of the offerings in CresManager is astounding, and the personalized help in learning how to use these tools is greatly appreciated." ‑ Dale Zschoche, Director of Gift Planning, The Air Force Academy Foundation
* Weeks 2, 3 & 4 ‑ Personal calls (to be scheduled)
WEEK 1

*

weeks 2, 3 & 4
WEEK 4
WEEK 5
WEBINAR MARKETING
PERSONAL CALLS
WEBINAR PLAN
MAJOR & BLENDED GIFTS
11/8/2022
To be scheduled
12/6/2022
1/4/2023
1/3/2023
To be scheduled
1/24/2023
2/1/2023
1/31/2023
To be scheduled
2/21/2023
3/1/2023
2/28/2023
To be scheduled
3/21/2023
3/29/2023
3/28/2023
To be scheduled
4/18/2023
5/2/2023
4/25/2023
To be scheduled
5/23/2023
5/31/2023
5/30/2023
To be scheduled
6/20/2023
6/28/2023
6/27/2023
To be scheduled
7/18/2023
8/2/2023
8/1/2023
To be scheduled
8/22/2023
9/6/2023
9/5/2023
To be scheduled
9/26/2023
10/4/2023
10/3/2023
To be scheduled
10/24/2023
11/8/2023
11/7/2023
To be scheduled
12/5/2023
To be scheduled